Great! You're looking for Real Estate Yard Signs.
The next step is to find out what size sign you need.
Standard yard signs are 24" wide x 18" tall, however, that size doesn't work for everyone.
We carry a range of sizes, but if you aren't sure what you'll need, the 24"x18" size is a great place to start.
Standard sign riders are 24" wide x 6" tall, but we can also print them on a 24" wide x 9" tall board if needed.
Next, we need to determine how many and which colors you want to use on your sign.
Boards come in white or yellow, and the color of the board is a free color.

Example: If you want a red, white and blue sign, your colors would just be red and blue (2 colors), printed on a white board.

Select from our standard print colors, or let us know if you need a specific PMS color.

PMS stands for Pantone Matching System. This is a specific color code that has specific mix requirements. These requirements mean that you can request items from multiple vendors, and the color from each vendor will be the same.

Keep in mind, though, that digitally printed items have variations in the way the inks are mixed. We digitally print in CMYK, so if you need an exact match, you will need to supply the CMYK breakdown.
CMYK stands for Cyan, Magenta, Yellow, Black. This is similar to the ink breakdown used in most desktop printers.

There is an additional fee for each PMS match requested.

Full Color files will be printed based on the colors in the file you submit. The only change we will make to the colors is to convert them to CMYK if necessary.
Any photographs on a sign will automatically be digitally printed in full color.
The easiest part – do you want the signs printed on 1 side only, or if you want them printed on both sides?
The hardest part – the design!
If you have already designed your sign, you can upload your design file to us. Easy peasy!
If you haven't and need help, just let us know what you need the sign to say and we'll design it for you! Don't worry, we always send a proof for you to review and change as needed. Nothing is actually printed until you sign off on it.
Do you need an arrow?

For 2 sided signs, we'll flip the arrow on the back side so that both sides of the sign point in the same direction. Typically, you see this for left/right directional signs.
Many realtors will also order 1 sided signs with an up arrow, to let potential buyers know they're going in the right direction.

On the flip side, you could order this as a 2 sided sign, but put a U Turn arrow on the back…
There is an additional fee for directional signs (2 sided only). This fee covers the additional labor and files needed to create the 2nd side of the sign.

We do require a minimum ½" margin around the edge of the sign.

If you need your sign printed edge to edge, we can do that. Make sure to request it, though!
There is a higher cost for full bleed signs. All full bleed signs are digitally printed full color.
 Material
Do you need regular corrugated plastic signs?
Do you need aluminum or PVC signs?

Standard aluminum is .040
Aluminum and PVC signs only come in white
Full bleed printing not available on aluminum signs.
Stands & Real Estate Frames

We carry wire stands in 3 sizes. All wire stands are designed to slide into our corrugated plastic signs on one end, and slide into the ground on the other end. THEY ARE NOT DESIGNED TO BE STEPPED ON.

10×30 stands – industry standard. This is the one most people use.
6×24 stands – this stand is shorter, so your signs will sit closer to the ground.
10×30 Heavy Duty – this stand has ¼" thick base and is designed for use with harder ground and/or windier conditions.

Click here for more information on each stand size, along with the sign sizes each stand works with.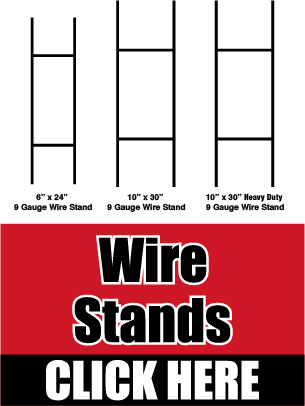 We also carry a variety of Real Estate Frames. Click here for more information (scroll down on the page that opens).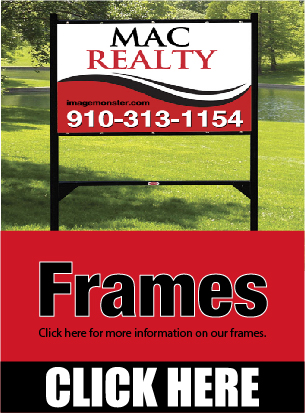 Don't forget your rider pins! Rider pins allow you to easily connect your sign rider to the top of your regular sign.  CORRUGATED PLASTIC SIGNS ONLY.
Whew, that's a lot of information! Are you ready to get started? If you are, just click here to go to our Real Estate Signs Quote Request Form.